Curriculum Observer
Curriculum Observer is an e-administration system that allows you to design and deliver your teaching observations on-line eliminating many paper based procedures. The system is installed on your network and integrates with your Management Information System ensuring that you have up to date robust management, tracking and reporting features with no cumbersome imports.
System Features
Curriculum Observer incorporates a document designer allowing you to create online observation forms that record exactly the information you require from your observers, teachers and moderators. Observer, teachers and moderators can all access the observation document at the relevant time but are restricted to specific sections that apply to their feedback. Strengths and Areas for Improvement recorded during an observation are available to teachers and line managers to create additional actions that can be followed up at the next observation.
Links with your Management Information System
Create your own observation documents
Scheduler for pairing observers and tutors
Tracking and Monitoring of the whole process
Email automation ensures all parties involved are kept informed immediately observations are scheduled, carried out, moderated and fed back
Managers have access to all relevant observation data and CPD actions for their team enabling them to monitor and report on every aspect of the process
CPD Actions allow Areas for Improvement and Strengths to be evaluated between observations
Grade Profile Results and Statistics
Insert historical observation results for consistent grade profiling
Comprehensive reporting features
Integration with your MIS database allows the system to automatically populate your observation forms with data such as course code, title, location, room, level, SSA, qualification type, register statistics, etc.
Observers can view Curriculum Surveyor survey results prior to observation
* Hover/Click Images to Enlarge.
Scheduler
Each observation session uses a scheduler to manage specific observations linking the teacher with the observer and the group of learners at the scheduled time by way of their course.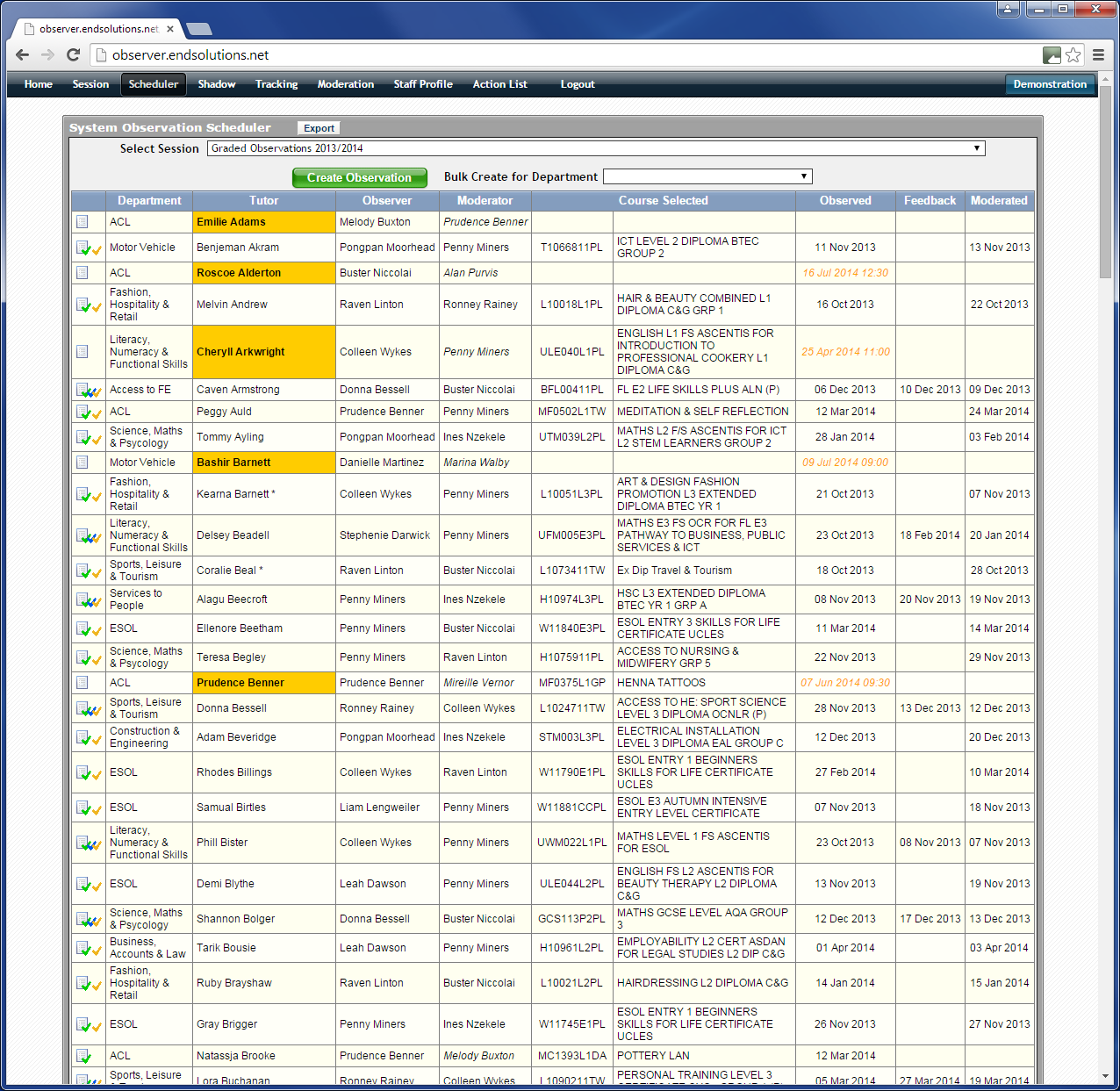 Selecting the course from your MIS database allows Curriculum Observer to retrieve essential curriculum and qualification information automatically. This information can be used to group reports by key demographics and also to present the observer with information they would otherwise be required to manually input.

Management Tracking
Once observations have been scheduled, observers, teachers and moderators will be logging on and completing their required actions all of which can be tracked centrally to ensure the process is proceeding as planned.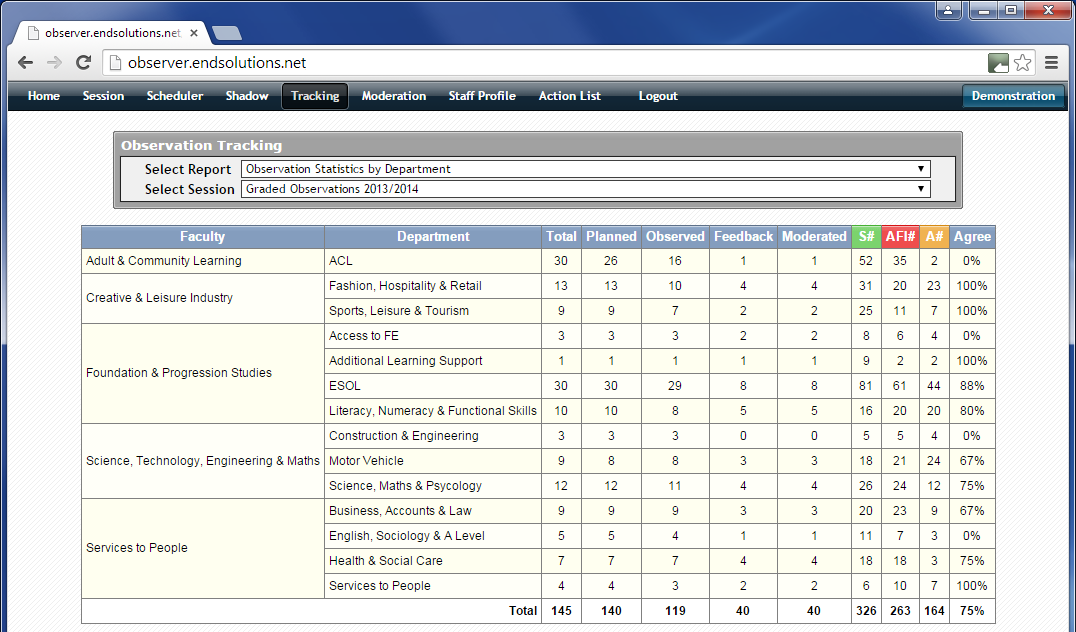 Generate historical statistics of grade trends for each curriculum area. Where trends indicate improvement, values are coloured green with declining trends coloured red.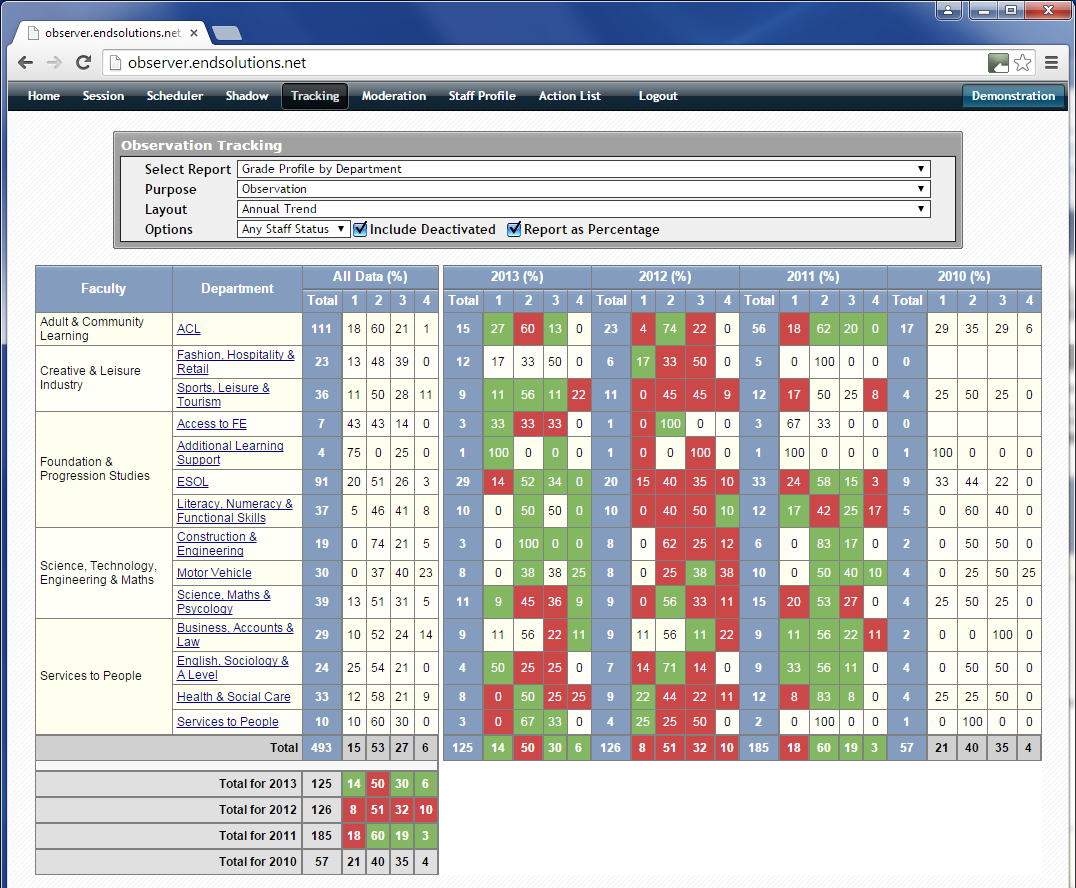 Instantly review Strengths and Areas for Improvement.